Gardening in a drought
The current hot weather and drought are taking their toll on our gardens. With the drought conditions expected to last into next year as well, here are some actions you can take to mitigate the impact on your garden. Click on the link below to download a pdf of the article (3 min read).
Improving your boiler efficiency
If you own an modern A rated gas boiler you may not be getting the full efficiency from your heating system.
With gas prices in the autumn predicted to be 4-5 times those of only a year ago getting the most out of every kWh of gas is important.
Modern boilers are designed to condense water vapour present in the flue gases to liberate free heat and reduce gas consumption (by up to 10%). If you get a big plume of white vapour when your boiler is running the chances are that your system is not allowing condensing to happen.
The good news is that improving your system controls by fitting weather compensation can optimise the system automatically - the attached article explains why and how to go about getting your system upgraded (3 minute read).
Top tips for keeping your home cool in hot weather
This article covers some tips on keeping your home call during very hot weather. During normal summer weather it is fine to keep windows open all day to let in the warm summer breezes - however once the mercury rises above 25degC keeping the heat out of the house is the name of the game. Click on the link below to download a pdf of the article.
Firm Friends for Life: Bonding with a Bottle


Linda Middleton of Sustainable Danbury writes:
I'd much rather have a magic wand to blast the grime and blitz the grease, but I'm fast becoming friends with cleaning bottles for life. My daughter dangled the idea before my eyes through her online ordering of products to help reduce her plastic consumption at uni. Then, when I stumbled across a complete company of cleaning products with bottles for life on my regular supermarket shop, convenience called and any excuses faded far away. It's a pleasure to use them in the kitchen and the bathroom and now my first, trusty pioneering cleaning bottle for life has company in the cupboard. The bottles I use are made from 100% recycled plastic sourced from coastlines where the plastic is most at risk of harming the marine environment. And this is an amazing feature of the product before it's even rolled up its sleeves to help you with the chores. According to the Marine Conservation Society, 'Every year, between 8 and 13 million tonnes of plastic enters our ocean. In fact, some areas of the ocean floor now have 1.9 million plastic pieces per square metre.' The UK charity also reports on the positive health and wellbeing effects of a visit to our beautiful coastline and that seems like another strong incentive to reduce our single-use plastic consumption. Yet supporting a change and helping to turn off the plastic pollution tap could not be made simpler. The first dissolvable sachet of product is in the bottle, so you just add water and shake. As well as reducing my plastic waste, I love the simplicity and convenience of popping a tiny boxed sachet in my shopping trolley when I'm ready for a refill. So, wish to grow your heart a little greener when it's time for your cleaning regime? Why not give it a go and help turn the tide on the plastic pollution crisis?
Top Tips for Sustainable Living
Small Changes can make a Big Difference
Choose active travel for smaller journeys, improving your mental wellbeing and physical fitness at the same time
Use public transport, car share and fly less; why not rediscover the beauty of the UK with a staycation?
Ask yourself "Do I really need this?" and purchase less
Recycle and use the Essex Library of Things
Reduce your consumption of red meat and dairy produce and enjoy a veggietastic meal
Switch from single-use to sustainable; Don't leave home without a shopping bag, water bottle or hot beverage cup and cutlery set and pack your lunch in a reusable box
Choose refill options and plastic-free products like soap and shampoo bars and bamboo toothbrushes
Purchase seasonal, locally produced food where possible and why not find your green fingers to grow your own?
Don't waste energy and water: switch off lights and appliances when not in use and wash laundry in full loads at lower temperatures and line dry
Ditch fast fashion: buy less clothing and of a higher quality to last longer and consider preloved items
Switch to a renewable energy supplier and a 'green bank'.
BBC Radio programmes on Sustainability,
Climate and

Environmental Issues
Listen via BBC Sounds App or subscribe via you podcast provider
Getting to Net Zero - Part 1: Energy Infrastructure
This article discusses the progress already made to getting to a Net Zero energy supply system as well as the actions still required. Clicking on the link below will download a pdf of the article.
Getting to Net Zero - Part 2: The land question
This article discusses the question of land utilisation in England and the changes that have happened over the centuries. In particular the article draws attention to the economics of land and in particular Solar Farms. A wider debate in the coming years is assured. Click on the link below to download a pdf of the article.
Climate Change 101
Confused by all the jargon? This article gives a overview of some of the key aspects of climate change and the worlds response to it. Click below to download a pdf of the article.
Microplastics
In this article we look at the topic of microplastics and their impact on the environment. The article discusses how your actions can minimise these harmful pollutants. Click on the link below to download a pdf of the article.
Book reviews
This article contains a summary of some of the most important books written in the last few years on the topic of the environment - save yourself hours by reading this synopsis. Reproduced here by kind permission of Pippa Stillwell the author. Click on the link below to download the pdf of the summary
Essex Climate Action Commission (ECAC)
Sponsored by Essex County Council the ECAC recently published its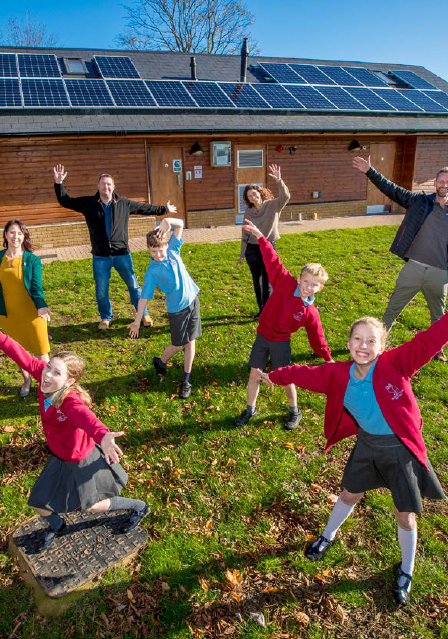 recommendations on how Essex can get to Net Zero by 2050.
The report's recommendations cover topics such as future land usage, energy production, home and commercial buildings energy efficiency, transportation and waste management. The recommendations also discusses the importance of community engagement and the role for Community Energy going forward.
Danbury Park and St Johns schools with their new solar panels feature heavily in the report and at the promotional event. A recording of the event is available on youtube.
© Copyright Sustainable Danbury